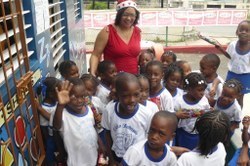 One of the greatest achievements of Fitz Ritson and Associates are our charities. This was not a nice to have, nor an optional but a must have, as we saw the need and plight of children in inner city schools that lacked the basic resources to elevate their minimal learning experience for basic Literacy. We have tirelessly implemented these tools for the past twelve years and it is such a pleasure to see our children literally light up when a new experience is implemented.
Fitz Ritson and Associates is committed not only to impact the professional acumen of our existing students but also shape and mold future generations so they have the foundation to make their rightful contribution to nation building in the years to come. 
We would also like to take the opportunity to thank our Alumni and Corporate Clients who have bought into this and look forward to te ground swell in the years to come.